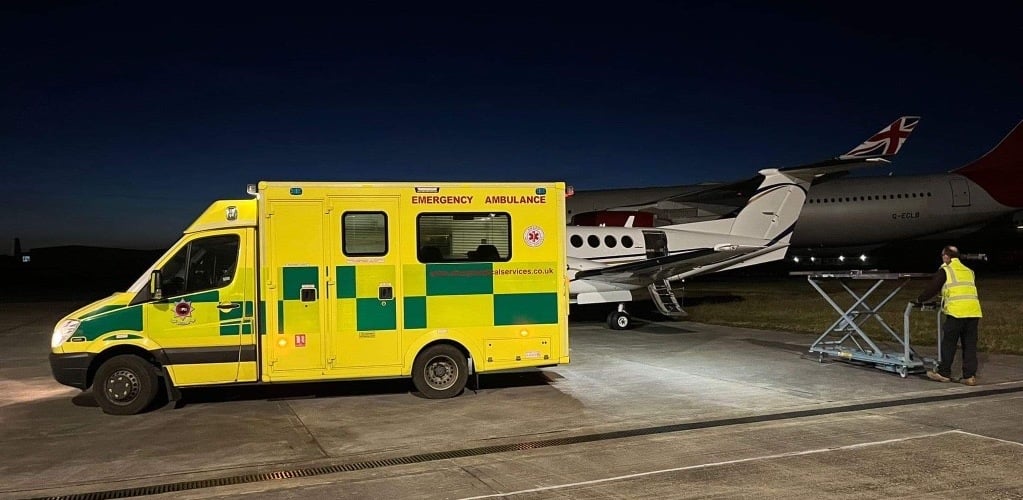 Gama Aviation commences medical repatriation service
Combining its aviation assets in the north and south of the UK with its medical team, the company will provide turnkey medical repatriation services for insurers, governments, and private individuals.
May 3rd, 2022 – Gama Aviation is continuing to build its medical services offer with a new medical repatriation service focused on repatriating patients to and from the UK.
The service will combine Gama Aviation's Dorset based medical team with its own dedicated air ambulance aircraft, those of audited third parties and commercial airlines to provide medical care when repatriating patients into the UK or from the UK. The service has been in trial during the previous two months after the abatement of COVID-19 commercial flight restrictions.
Dr Simon Forrington, Medical Director for Gama Aviation Special Mission commented: "We have now successful delivered a number of these missions including supporting patients moving from Qatar, Mumbai, Idoensia and around Europe. We expect an increase in seasonal repatriation requests as both the business and leisure market opens up after nearly two years of stasis due to COVID-19."
Mark Smith, Managing Director for Gama Aviation Special Mission commented: "Our aim is to provide a single point of contact for private individuals, insurers and governments that will ensure loved ones are repatriated with the utmost care and attention. To do so, we passionately believe that we need to 'own' the challenge and provide a true bed-to-bed service. You simply cannot do the part of the job that suits you. As such we believe that this new service offers insurers and governments an efficient 'one stop' solution to repatriating citizens in their time of need."
ENDS