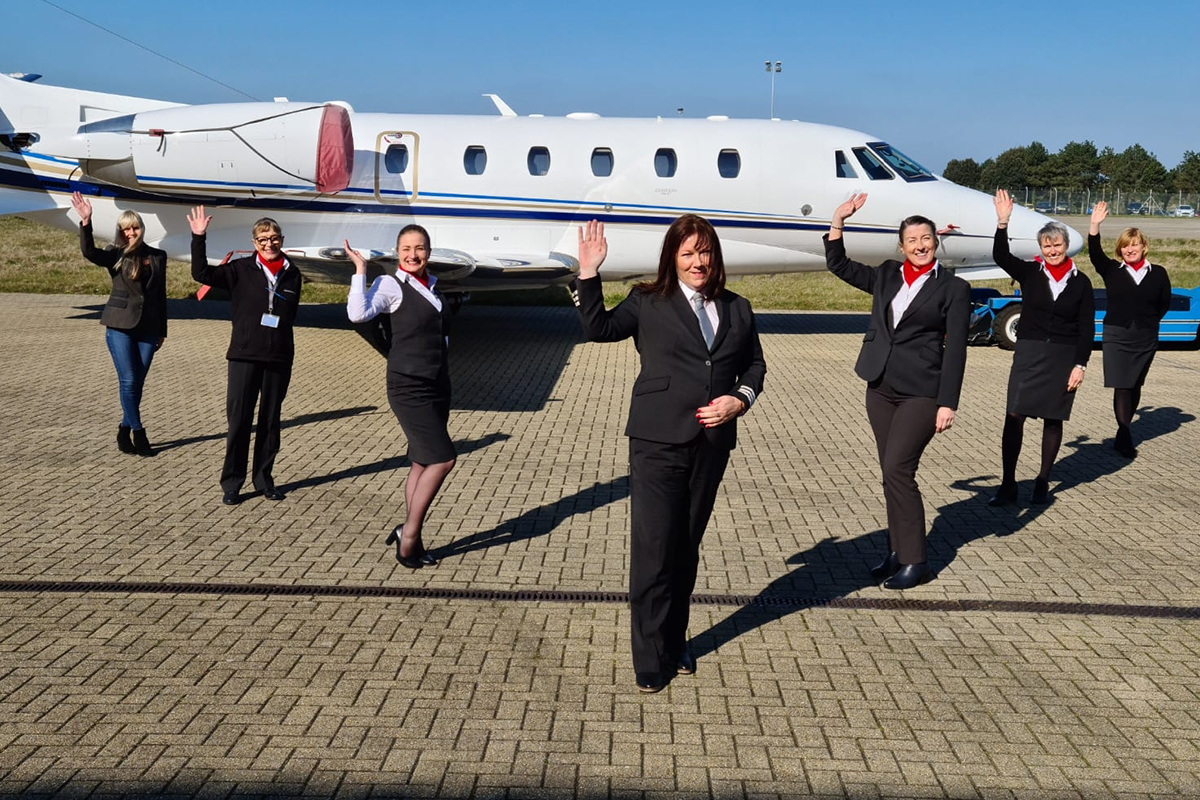 Proud to have such a vibrant female community #IWD2021
Delighted we have such a vibrant community of committed and passionate women within Gama Aviation, Jet East, myairops and FlyerTech
For #IWD2021, we reached out to this community to ask for their stories, experiences and passions from their time in the aviation industry. We created a piece on our LinkedIn to showcase their thoughts, however the response was so great we have continued on this page as we were unable to capture all the pieces within our video.
Here is the video piece we created with some of the stories from our people.
Alyssa O'Connor, Technician Jet East
I'll start off by saying that I'm so happy to be in aviation, and I think it is one of the most rewarding careers. I like the fact that aviation is such a small world. It's not crazy to think that the six degrees of separation law applies to the aviation community. Even more tight-knit is the business aviation side; drop a name and chances are, someone will know Joe Shmoe who worked at XYZ Aviation in the year 123- and there may be a funny story along with said name! Corporate Aviation is a place where you can build up a great name for yourself. I've learned this through the years with my dad being that name, and some people I have come across working with have worked with him too. He was an A&P Tech for Continental Airlines, up until they merged with United. He is the reason why I decided to become an A&P myself. I love that we can talk about working on airplanes (Besides Chapter 38) at family gatherings, while everyone around us is wondering what language we're speaking; it's something unique we both share.
So far, I have been a tech for 5 years, and I am always learning something new at work. Working with Jet East* for the past year, I can proudly say I have learned a substantial amount on new Airframes, Engines, and Avionics. I would not believe myself 5 years ago if I saw what I was doing now, and it's an incredible feeling. Plus, I work with a great team of people who have really welcomed me and taught me so much, and for that I'm grateful.
As for inclusivity, Jet East* as well as this industry I think does an awesome job of. I feel like I really belong here, and also am a member of Women In Aviation, which provides mentorship and scholarship opportunities. What I love most about being a woman in aviation is that there are so many things and opportunities to look forward to. I can't wait to see what the next 5 years will hold.
*Jet East, a Gama Aviation company
Marta Czarnota, Ground Handling Agent
My aviation career started when I saw a glider dancing in the sky without sound and no strings attached to it. Walks to the airfield became more regular and my love for flying began. While attending secondary school I joined the afterschool club for aviation enthusiasts, where I learnt how to fly a glider and an aeroplane. After a few years of studying at the Polish Air Force University I gained a bachelor degree in Aerospace Engineering specialising in Air Traffic Management then a master's degree in Aerospace Engineering specialising in Operations on aircrafts.
When arriving to Jersey, Gama Aviation was a place where I wanted to be. It was 19th of February 2020 when I joined the team. Learning from my colleagues, fantastic pilots and ground team I have been enjoying myself being in the aviation industry, seeing the island from the air, admiring the beauty from above. From the very busy period full of visiting jets, military training flights and ambulance flights we got to the point where everyone lost hope for the "normal" future, but we got through it!
Today full of optimism our Jersey team is handling General Aviation aircraft while the Jersey Aero club is closed, assisting the Jersey Coast Guard flights and looking forward to welcoming the new aircraft in our fleet.
Every day I am developing my skills: learning how to marshal the aircraft, or make our customers happy and satisfied with our services, it is not just a job! Surrounded by the Atlantic Ocean, Jersey is a perfect place for aviation and travel.
Most of our regular clients know us by name, we see most of them on a weekly basis, hospital transfers are pure team work operations, all of our aviation colleagues are always more than welcome here at with us…
What makes us special? – the personal touches and individual effort makes our Jersey FBO a perfect place to be!
What could the industry do better, how could we all be better at being more inclusive?
Be ourselves! Be caring colleagues at work and super employees. Give a chance to everyone regardless of nationality or gender…let us spread our wings! And don't forget that 30% of our team is women – the key to the perfection! I am an aviation geek.
Cassandra Murillo, Human Resources Generalist, US Mx
I love the Aviation Industry! I believe it is fascinating to see all the different areas of aviation that you would not think of from an outside perspective! I have personally been involved in the aircraft management side but also the aircraft maintenance side of the industry since transition from Gama Aviation LLC to Gama Aviation Engineering. There is so much to learn and so many areas that you can grow in this industry and expand on. I think, as a whole, we do a great way of encompassing that and having our company represent a "Jack of all Trades".
I was lucky enough to fall into the Aviation Industry, however I would love to continue in this industry throughout my career and explore other areas. I am in Human Resources and love my job. I have always been passionate about this field and so much so that I completed my Masters in Human Resource Management. My job is the central department for employees to go to as a resource for the company. I love being that resource and helping our employees get the answers to their questions in a professional and efficient manner.
The industry is mainly operated by the male population and I think the industry can do better with that. I think recognizing women in the aviation industry and praising them for being apart of it will encourage other women to join. We could all be better at being more inclusive of women in any position, whether it be entry level or executive level. I believe having a diverse workforce when it comes to female to male ratio is important, as we have different perspectives, thoughts, and emotions. It is important to welcome that diversity and inclusion especially in an industry that is so heavy on one side.
Azra Thomas, Marketing & Sales Manager, US Mx
I started as a freshman out of college working on the ramp in my early 20's, not seeing many females on the ramp or as a fueller. Working in a very small airport out of Raleigh Durham, North Carolina I defined the culture of that facility! Nothing stopped me from loading luggage on a 717 series aircraft or towing an a/c to the live taxiway, to delivering the load and balance paperwork to the crew etc…
I still get goose-bumps hearing an engine running or airplane taxing, these big metal beasts exude the energy hence the love for aviation is now permanent. Seeing more organizations that recognize the value in diversifying the gender mix of their leadership teams has given many of us a platform to perform our best and to push our limits. I take pride in delivering a safe aircraft to our clients and continue to ambitiously do my best in mentoring more females into aviation.
Kimberly Lucas, QC Assistant, Jet East
My interest in aviation started many years ago when flight attendant requirements mandated a certain height, weight and four years of a foreign language. Anticipating a commercial flight attendant career I took four years of French in high school and my part time job in college was at a retail travel agency.
While in college I read a small 3-line classified ad in a local newspaper for a unique air charter broker concept in corporate aviation. The rest is history….I joined Direct Airway whose mission was to screen and select air charter operators based on maintenance, pilot training, insurance and general business practices then represent them nationally to customers. My path took me to Teterboro to work for an air charter operator then a helicopter operator. After a break to start my family I returned to corporate aviation in a billing capacity and currently enjoy working with Jet East's* QC team.
Additionally I'm Treasurer of a newly forming NBAA Regional group called Delaware Valley Business Aviation Association serving New Jersey to Delaware.
Business aviation is multi-faceted and I am thrilled to have had many opportunities over the years in the vast corporate aircraft industry.
*Jet East, a Gama Aviation company
Joanne Cimmino, Business Manager, Scotland
Currently my role is Business Manager, Scotland. The role is an Integral part of Scotland's region's operational and compliance structure, ensuring effective and efficient day to day operations of the company's business activities. I am a highly motivated Travel/Aviation professional with over 30 years' experience working in the Aviation sector as a whole . Essential qualities of a manager in the industry is the ability to adapt and rise to the challenges of the operation, as no two days working in aviation are the same.
An airport is considered a high risk work environment, having constant situational awareness is key to run a safe and secure operation. It is a challenge to meet the expectations of passengers for a variety of reasons and that is where exceptional customer service comes into play. Time management is everything in aviation, being operational 24 hours a day 365 days a year, employees have to adapt to unusual working hours and shift patterns, all whilst maintaining a smile on their face. Being a team player goes without saying, a whole host different responsibilities and a wide variety of skills all working together to keep operations safe and secure.
Jessica Sethi, Content & Communications Manager, myairops
I work in the myairops software department and over the years I have collaborated predominately with male employees, but during this time I have seen a massive shift in women joining the industry. It's great to see so many women breaking through and creating a more diverse place to work.
The company promotes employing women in aviation and technology, and this is why I continue to work with my team and take pride in working for such a company. As a company we cater for not only women, but women who are parents and carers who are usually seen as a hinderance, we provide the flexibility and support to help all of us achieve progression and career goals.
Maria Picut, Administration Manager, Business Aviation
Aviation is vibrant and pro-active. As we are highly regulated, I like that it pushes us and our operations to keep and maintain the highest standards. Now we are especially relevant as an industry as we can carry out emergency undertakings faster and more efficiently – transporting people stuck in places due to the pandemic, transporting food and essentials to far flung areas, and most importantly of late, shuttling vaccine distributions worldwide.
With its size and how abrupt changes can be implemented, it is somehow a close-knit community. So you're bound to be working with people through the network of the company or past connections brought within allowing everyone closer than as mere rivals. It not only allows friendships to flourish but it also develops a good network to lean on when necessary.
Jillian Connor, Administrator Assistant, Billing, Jet East
I have only been with Jet East* for a month, and I just have to say how AMAZING every single person I've met has been. I was working for The Governor's office before I found my way to Jet East*, and there is honestly no comparison. I've never worked with such a family oriented, helpful and knowledgeable group before.
This really is a TEAM that works together. I have to tell you; I honestly look forward to going into work every day. The girls really do have a way with training, and they have made my transition so easy and comfortable. Every employee is friendly and happy. To me, that really attests to what kind of company this is. I just wanted to express how much I enjoy my job and my co-workers, and I really look forward to being here for a very long time & getting to know our wider family a little better.
*Jet East, a Gama Aviation company
Claire Denning, HR Consultant, Group Functions
I enjoy the fast paced, ever changing and challenging environment we work in in aviation. It means you have to be adaptable and keep on your toes. It's never dull!
I love the people you get to work with, as they are usually passionate and enthused about what they do and want to get the job done.
The Green agenda is really important for this industry, the long term survival and our ability to attract new talent will hinge on how environmentally and socially aware we all are.
We can all take steps to be more inclusive, even just thinking about how you would feel if you were excluded or treated differently and recognising that it would have an impact on you.
Katy Pfeiffer, Purchaser
I have worked in various roles within the Aviation Industry , starting with Operations within the Corporate Jet FBO system, to Precision Aerospace Manufacturing industry, to my present position.
Things I love : Fast pace industry, no two days the same. My role keeps me on my toes and and I get to work with a great bunch of people.
Things that are challenging; Meeting customer expectation dates and managing all the other delaying factors – some days it is a losing battle!